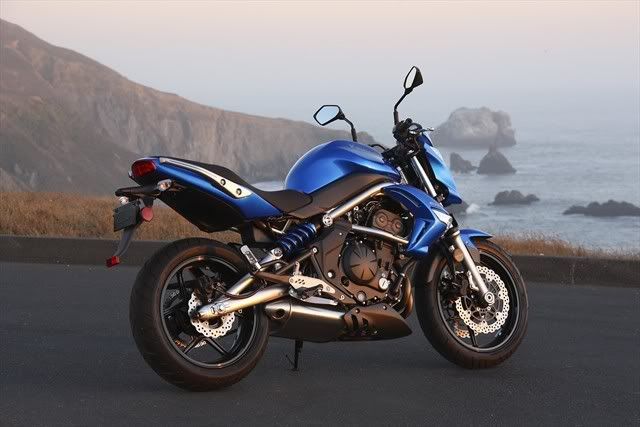 KEY FEATURES
- CONFIDENT, FLICKABLE HANDLING
- LIGHTER WEIGHT
- CORNER-ENTRY CONTROLLABILITY
- PRECISE ENGINE CONTROL AT ALL RPM
- AND POWERFUL MID-RANGE TORQUE
SHARPER STYLE. EVEN EASIER. MORE FUN.
The new ER-6n takes the key concepts of its highly acclaimed predecessor – fun, easy to ride for a wide range of riders. Top-class styling – and brings them to the next level.
KEY FEATURES
SHARPER, MASCULINE STYLING
While maintaining the distinctive character of its predecessor, the new ER-6n gets sharper, more muscular bodywork, giving it a more "active" and aggressive image. Curved lines are replaced with angular ones, and all lines move forward, giving the bike a crouching appearance. Simple in design, the new ER-6n avoids all superfluous design flourishes; lines were made to flow as long as possible. The new, taller fuel tank, pulled-back shrouds and sharp tail cowl make the bike look more compact front-to-back. Attention to the smallest details contributes to the new bike's high-quality finish.
COMPACT, QUICK-REVVING ENGINE
The balance of compact size and good power offered by the original ER-6n was the key to its success. To fit into its trim package, an In-line Four would have been too wide and a V-Twin too long. The only engine design that offered both good power characteristics and the requisite compactness was a Parallel Twin. While maintaining this balance, the new engine gets a number of tweaks that offer smoother low-mid response and a quicker-revving character.
LIGHT-HANDLING CHASSIS
The key to the ER-6n's compact size is its amazingly compact Parallel Twin engine, which permits the use of a narrow, lightweight frame. The result is a bike with the dimensions of a 400 and the power of a 650 that welcomes beginners with a "Come on, let's go for a ride!" attitude, while also offering plenty of performance for more experienced riders. Changes to the frame, swingarm and suspension result in reduced vibration and lighter handling, making the new ER-6n more accessible than ever.
Instruments/Controls
Stacked instrument cluster has a sharp design and clean layout with an analog speedometer that uses white LED backlights for excellent visibility at night
The multi-function LCD screen has amber backlighting and its features include a fuel gauge, bar-style digital tachometer, clock, odometer and dual trip meters
Inner cover inside the front cowl provides a clean appearance in this area
Handlebar mount design and curved shapes on the brake master cylinder reservoir and clutch lever contribute further to the ER-6n's masculine appearance